Rainbow School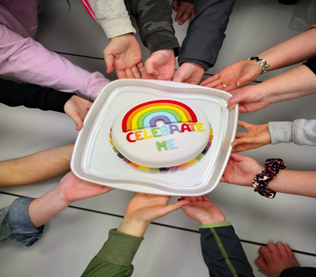 Since Rainbows was introduced at Park High School in April 2017 and its first groups got underway, 58 Young people all dealing with a significant loss in their lives, from death of a parent or sibling, a divorce or separation or abandonment. These young people have met weekly for twelve weeks, working through emotions and feelings with a team of 11 dedicated facilitators.
"As a member of staff, I find it a privilege to be able to support some of the most vulnerable pupils here at Park. To be able to watch each individual grow, discovering their own feelings surrounding their loss, is a truly humbling experience. Throughout the programme, students became more dependable on the weekly sessions, eventually opening up and relying on the others in the group for advice. By the time it came to Celebrate Me Day, students had a new friendship group, this was a delight to see."
Each Rainbows group ends the 12-week journey with a 'Celebrate Me Day', off site.
What makes Rainbows work in school is its ability to allow young people to realise they are not alone on their journey, for many of our young people, they feel different from others and would not necessarily tell them of the issues they encounter, they leave that to their new found family.