Headteacher's Blog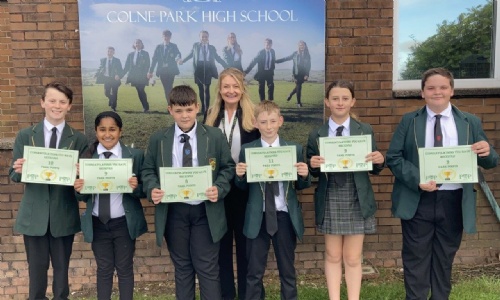 It's been a really exciting week at Park and the Park Points are going from strength to strength!
This week we have had the first PD Day of this academic year...it was fabulous!! Year 7 and 8 focussed on team building activities around the theme of respect, which is our focus for this half term. They made spaghetti and marshmallow towers, played capture the flag, engaged in the desert island challenge and enjoyed many more activities. All of our Year 9's have the opportunity to gain the Duke of Edinburgh Award and in PD day they started the skills section, putting up tents, first aid training, cooking for themselves and many more activities. Year 10 focussed on YGAM and experienced a range of activities safeguarding children against gaming and gambling harm and our Y11's had a carousel of activities based around planning for post- 16 and careers.
Towards the end of the week we were lucky enough to work alongside local professional artist Alison Greer - watercolour specialist delivering a watercolour workshop to help students through their GCSE studies and refine their water colour skills for their project on animals. Our students really engaged with the artist and produced some amazing pieces of work.
Our sports teams have started competing against other schools and are proving to be true ambassadors of Park. The school band, dance and drama club, singing club and photography club are up and running and as popular as ever!
You can keep up to date with everything that is going on at Park through our weekly Parents@Park communication, and it would be great if you could help us celebrate the achievements of your children by following our facebook page and twitter account @park_high_colne
Have a lovely weekend, Mrs Eulert.