Year 11 Lancashire Cup success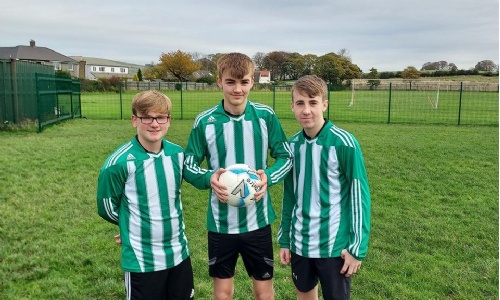 Year 11 played Broughton High School last Thursday in the Lancashire Cup
Thursday evening so the Year 11 team play Broughton High School, the game taking place at Prairie in Burnley.
After a slow start we grew into the game and a quick re-jig moving the outstanding James Jackson to defence and the introduction of Joe Hopkinson up front changed the game. It was a surging run from Joe shortly before half time which won a penalty which he converted meaning we led 1-0 at half time.
The 2nd half performance was superb and the hard working approach meant we matched a very good Broughton side all the way. With 10 minutes left a superb team goal with great passing and movement from Tom Garner, Luke Airdrie and Joe Hopkinson resulted with Connor Denton in a 1 on 1 with the goal keeper and Connor calmly finished to make it 2-0.
Broughton continued to push and resolute defending kept them at bay. The final minutes saw some real controversy which is still yet to be resolved. We won a free kick on the right side of the penalty area. James Carr, who had been unlucky with a 30 yard free kick earlier in the game, delivered an excellent ball into the box. The ball may, or may not, have been helped on by Luke Airdrie but it ended up in the bottom corner to seal a superb 3-0 win.
The debate over the goal raged throughout the journey home and both James and Luke have visited Mr Orme this week to try and claim it but he is definitely staying out of the conversation! What is important is to acknowledge how brilliant the group were in a very tough game. Attitude, approach and resilience where outstanding and we move into the next round. Pictured above are Luke Airdrie, Alfie Whalley and Lochlan Cairney
There was some disappointment the following night when Fishermore cancelled the Year 11 fixture dues to a lack of players, however, the boys deserved a rest.
In the other fixture this week our Year 8 side visited Fishermore and endured a difficult evening. Mr Schofield described the opposition as one of the best sides he had seen in his time in Pendle as we fell to an 8-0 defeat. However, the attitude and approach of the players was excellent and they never stopped having a go so congratulations to them.