Creative & Performing Arts
ASPIRE, PERFORM, ACHIEVE
Welcome to Park High school's Creative and Performing arts faculty where we ensure that all our pupils have an enjoyable and rewarding experience of Art, Dance, Drama and Music. We are committed to celebrating the creative achievements of our students and to guiding them as they develop their skills and practice ensuring they are equipped for higher education and post 16 courses. We have firm partnerships with both Nelson and Colne college and Burnley college whilst working closely with a variety of artists in residence.
We host an annual CPA awards evening where parents and pupils communally celebrate their artistic, dramatic, and musical achievements. Our art exhibitions offer stimulating visual explorations of both 2- and 3-dimensional work, whilst our choir, school band, drama and dance clubs offer exciting musical and theatrical performances.
Our school thrives through a community of students and teachers working closely together to ensure that all CPA students can work effectively to 'Aspire, Perform and Achieve'.
Creative and Performing Arts plays a very important part of pupils enriched life at Park High School. We encourage all our students to embrace their creative, performing, and imaginative skills through a diverse cultural and artistic environment.
Our aim is to guide all our pupils to 'aspire, perform and achieve' through a love of learning experiences in CPA so that no one gets left behind. The pupil's ideas and passion for the curriculum will in turn shape our school ethos and community.
We endeavour to challenge pupils with a rich curriculum that embeds understanding of local, National, and International cultures. Our curriculum is both ambitious and engaging.It allows pupils to think creatively and develop their long-term understanding and skills, whilst embedding subject knowledge.
We enable students to understand how to achieve and make greater progress through our personalised teaching and intervention strategies. Our aim is to deliver an enjoyable and rewarding programme of study in Creative and Performing arts which allows pupils to achieve their full potential and instil a confidence for their further learning post 16.
The CPA curriculum offers a clear and meaningful delivery of lessons to build on key skills, knowledge, and concepts. Teachers will use differentiation and literacy strategies to support all pupils despite their race, religion, social background, or culture to ensure they understand the purpose and nature of the lessons so that no one is left behind.
Art Learning Journey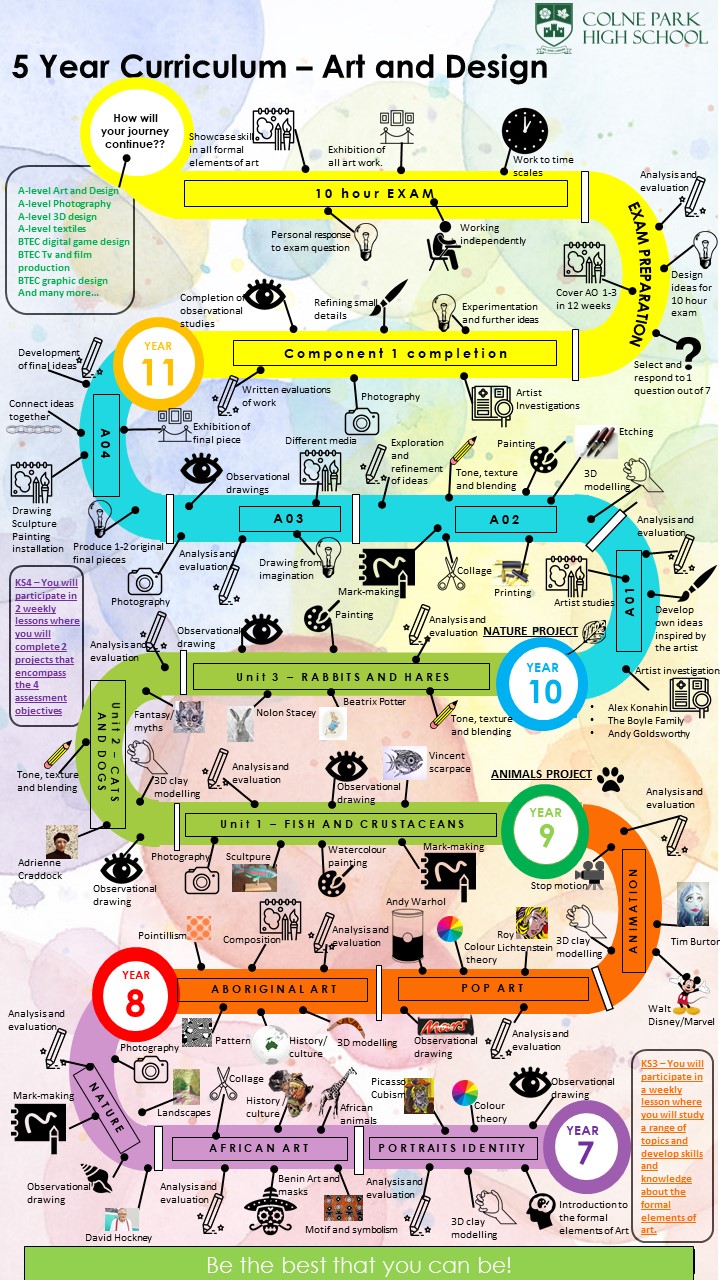 Dance Learning Journey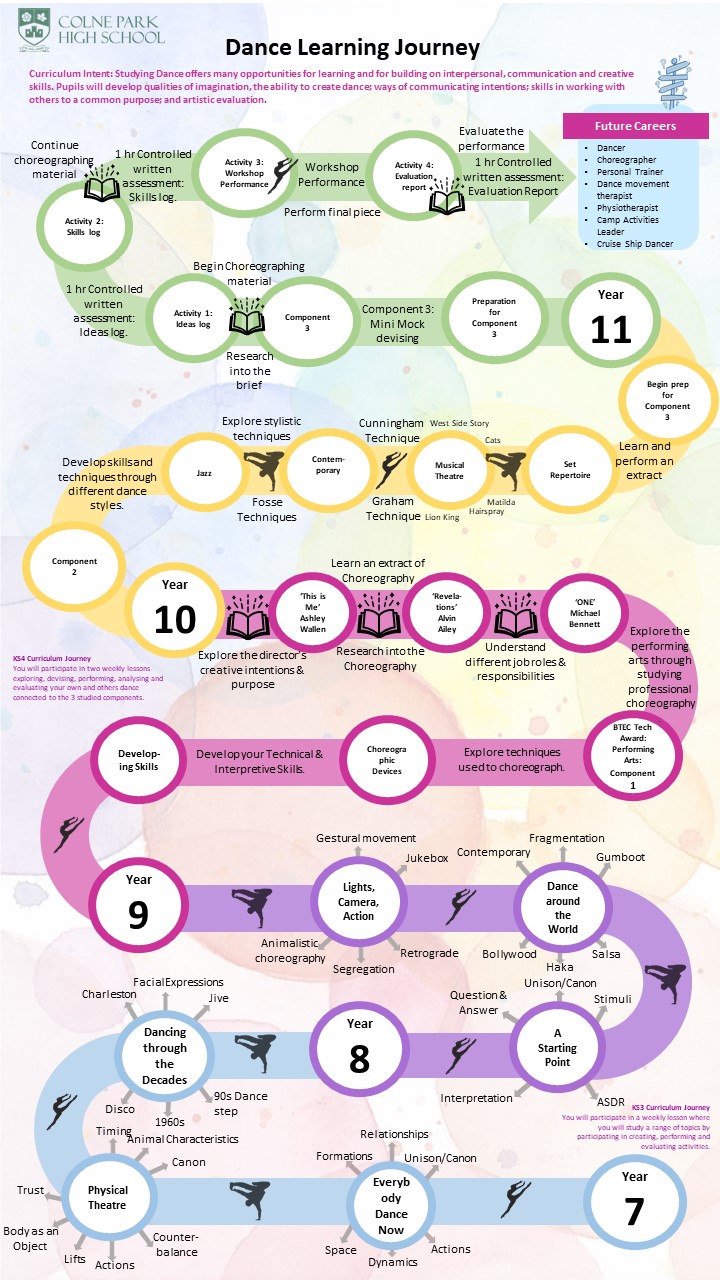 Drama Learning Journey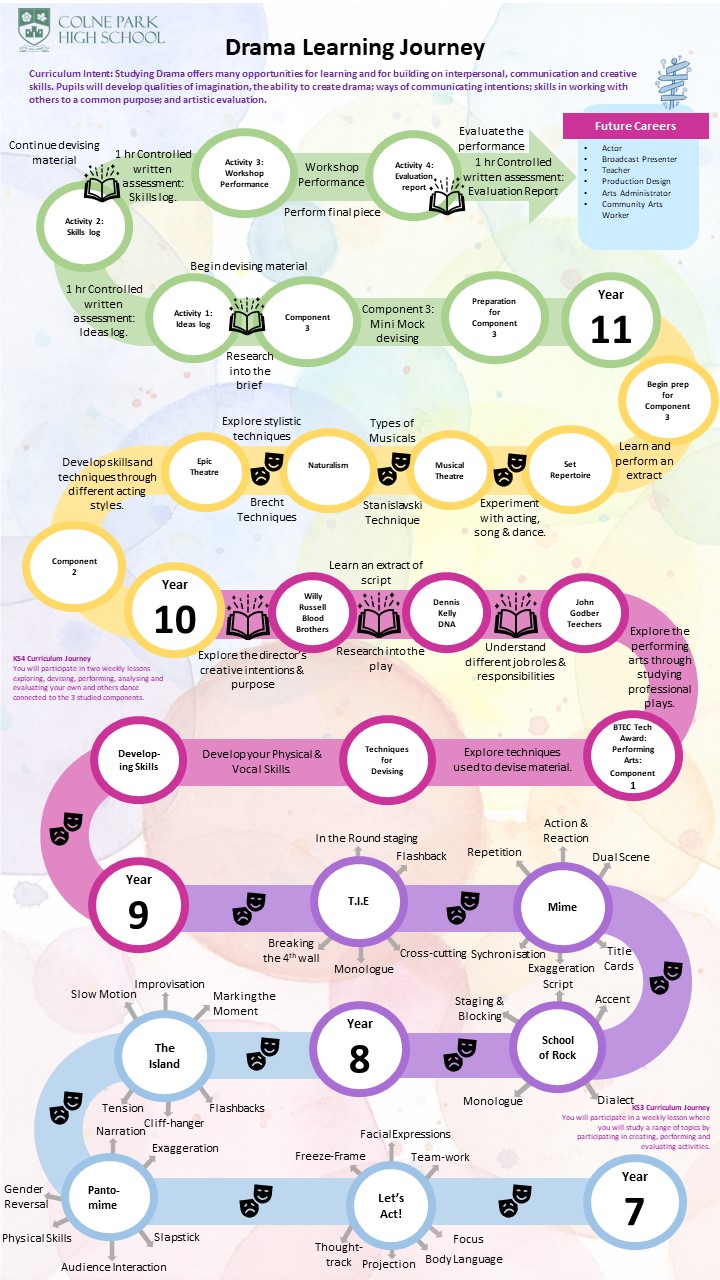 Music Learning Journey