Year 11 Success Fayre - Weds 19th October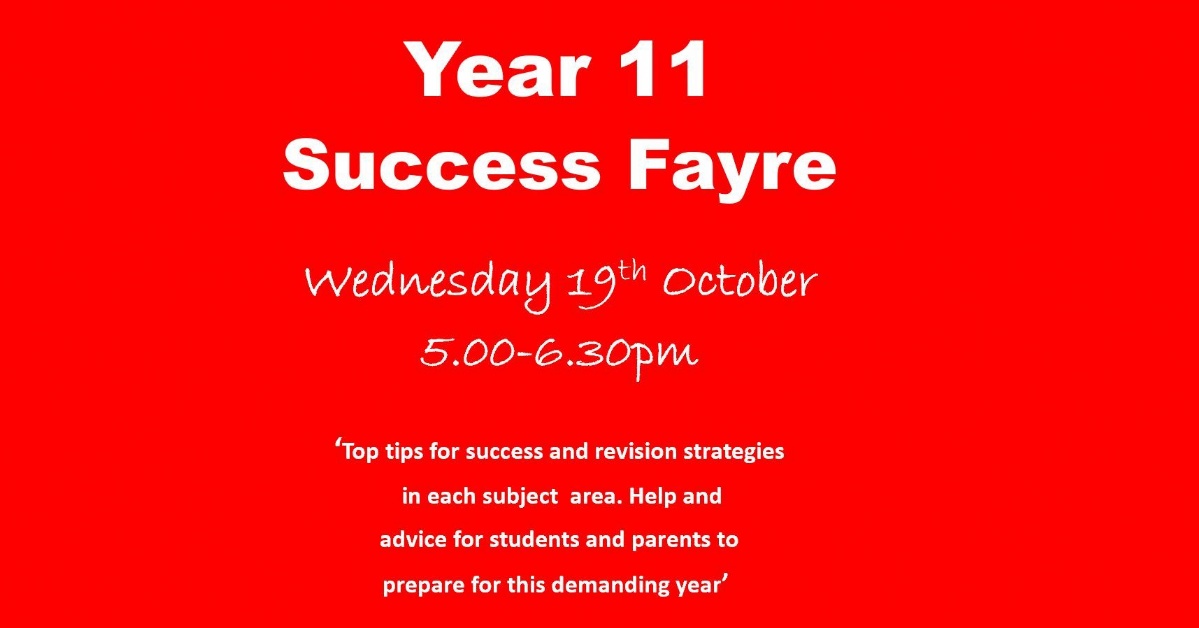 On Wednesday 19th October we will be hosting the Year 11 Success Fayre - for Year 11 students and parents. The event is taking place from 5.00pm - 6.30pm and is an informal but important event with the opportunity to speak with Curriculum Leaders about achieving success in the demanding GCSE examinations.
The Summer GCSE exam period is only 7 months away and it is vital you attend to support your child in achieving their full potential.
The Year 11 Success Fayre is planned to support students and inform parents about the requirements of each subject (something that is difficult in a 3-5 minute Parents Evening appointment). The Year 11 Success Fayre will start with a short presentation from the Headteacher Mrs Eulert. This will include important dates for Year 11 and an overview of the support we offer.
Curriculum Leaders will distribute subject overviews which will help your child understand what is required to reach their full potential, together with revision resources to support you and them on this journey. Alongside the teaching staff there be an opportunity to speak to the careers team and staff from Burnley College and Nelson and Colne College about post 16 options. As part of the evening there will also be information about supporting your child's well-being through this period and an opportunity to speak to some of last year's cohort.
There are no appointments required for this event as the event will be running as a Fayre in the hall. But expect to be here at least 30 minutes. It is recommended to come 5.00pm-5.30pm, 5.30-6.00pm or 6.00-6.30pm. During the evening there will be opportunity to order our recommended Revision Guides that can be purchased through your MCAS account.
I look forward to seeing you at the event.
Regards
Mr Allen